Affiliate marketing can be intimidating for anyone, when you first learn about what it is and how it works.  And let's be honest we all start somewhere, and that starting point is typically from scratch or ground zero if you will.  When you type in affiliate marketing into Google you'll get a popsicle headache trying to decipher the many choices that come up and which ones to click on.  Don't worry we got you covered in this article on affiliate marketing for absolute beginners.




This article is written for you the beginner or newbie affiliate marketer.  Before you and I talk about some juicy tips we need to define what affiliate marketing is in Lehman's terms.
What's an affiliate?
An affiliate is nothing more than a sales person for a product or service.  Almost all products that you can sell on the internet have hundreds, if not thousands of affiliates for their products.  Or hundreds and thousands of salespeople selling their stuff.
What's marketing?
This is the method in which you use to sell those products or services.  This can be via a blog, website, social media, or pay-per-click advertising, whatever marketing tactic that you decide works best for you.
Do you follow?
Fantastic!
Let's get into the juicy details shall we?
8 Juicy Tips On Affiliate Marketing For Absolute Beginners
1. Don't Spam Your Affiliate Links All Over Social Media
This is a I don't want to say no-no, but really bad form as it relates to affiliate marketing.  It's the online version of throwing up on someone (figuratively) when you're trying to sell your car or something.  People don't respond well to that.  I mean would you?  No, you wouldn't so don't do it.  And part of the reason you do that is you have not done this before, which is understandable – we don't know, what we don't know.  So, to wrap it up do not go to Facebook, Twitter, LinkedIn, Pinetrest, (insert any other social network) and plaster your affiliate links all over the place hoping people will click on that link and buy.  Because that will never happen.
2. Pick A Product Or Service That Has Recurring Revenue
What do you mean by that?  Market a product/service that someone will use on a monthly basis.  An example of this would be Aweber, which is an email marketing service that you use to send emails to your customers and/or subscribers on a mailing list you've built.  Once someone signs up for Aweber through your affiliate links you'll not only get a commission for that month, you'll get a commission every month after that as long as that person is using Aweber.  This is great as you can keep building and building a passive income stream.  There's no limit.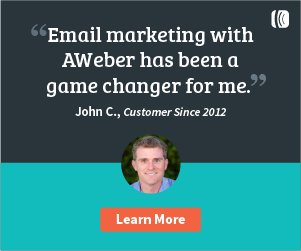 3. You Should Be A Current Consumer of  The Product Or Service You're Marketing
Makes sense right?  I understand you won't always be a consumer of a product/service you're trying to sell, but it gives you more credibility when you do.  Otherwise people can figure out quickly that all this affiliate marketer is trying to do is make a quick buck.  Plus, if you're giving a review of the product you speak of it from a users prospective, which has more weight than a feature or benefit.  All consumers care about is how's it going to help me? Will this meet my needs?
4. Use Testimonials
This should be a no-brainer.  Find out who has used this product before and whether they will give you a testimonial in your marketing efforts.  Or (and this should be easier) get a testimonial from one of your customers of this product once they buy it from you.  You and I can stand on our heads and burp jelly beans saying how great a product is and why they should buy it.  But a testimonial from someone else will greatly enhance your chances of a sale.  Think of it this way.  A salesperson is trying to sell you a widget at a retail store.  Your buddy comes by and says that's great and you should buy it.  What do you think will happen?  You'll buy the widget.  Why?  The testimonial/endorsement from your buddy.
5. Be Objective – Discuss Pros And Cons Of The Product
A prospective customer is more than likely to buy from you if you discuss not only the pros, but the cons of the product as well.  The reason you do this is if you're real with people they not only respect that, but you're more than likely to gain their trust and they'll refer their friends.  Would you like more new customers without having to do additional work?  Absolutely you would.  This will help you get them if you follow this one little tip.
6. Do Not Incentivize People To Purchase From You
Unfortunately, almost every single affiliate program that you can become a member of frowns upon this.  What do you mean by incentivize?  Basically paying them or giving money back if they purchase from you through your affiliate links.  Example of this would be.  Buy XYZ product through my affiliate links and you'll receive a $5 Starbucks gift card for doing so.  Can't do that.  It sounds good in theory, but you'll definitely get your hand slapped and kicked out of the program.
7. Why Should They Buy From You
This is a biggie.  Remember at the beginning when we talked about companies that have affiliate programs with hundreds if not thousands of affiliates?  Okay, well you need to find a way to differentiate yourself from them.  Stand out from the crowd if you will.  How you do that is up to you.  Can I give some advice on that?  Not really.  I don't know what you're selling, but I can tell you this.  Research who else sells the same product you're thinking about becoming an affiliate for and see what they do.  Find an angle they're not using and incorporate that missing angle into your marketing that will make you stand out among the rest.  Make sense?  Cool.
8. Be Patient.  Results Will Come
This is by far the most important tip I can give you.  No matter what marketing strategy you choose, it's going to take some time.  Why?  Again, you're not the only one who is an affiliate for that product.  Also,  trying to get anyone to buy anything even a $5 widget is hard, it's not as easy as it seems. If it were everyone would be doing it.  This is probably the hardest thing for an absolute beginner in affiliate marketing to learn.  Stick with it and results will come.  Nothing happens overnight, no matter what you read.
This will conclude our conversation on affiliate marketing tips for absolute beginners.
If you made it here to the end and like what you read, tell your friends by sharing on Facebook, Twitter, or Pinterest.